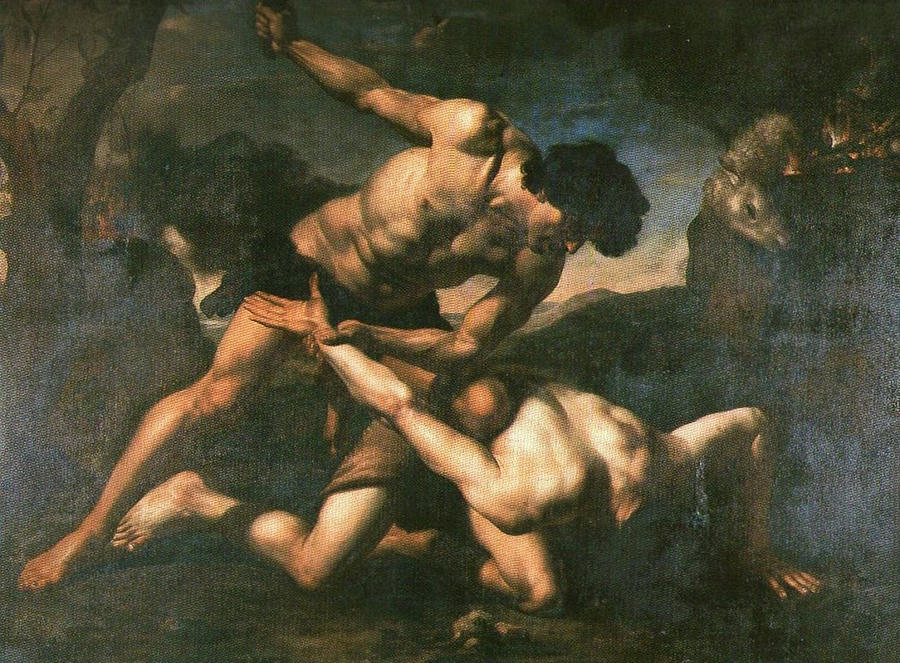 The oldest legends tend to mark major civilisational transitions. Gilgamesh famously wrestled and beat Enkidu. The story marked the transition to urbanisation in what is now Iraq. The city won. The legend of Cain and Abel marks the neolithic revolution, the farmer Cain killed the nomad Abel.

There are obviously other layers: sibling rivalry, expulsion from the wilderness, responsibility, discipline to rule over your desire to sin.

Cain is asked by G-d before the murder to work harder, to do more, or, so warns the Lord, he may fall to sin. He sins and is cursed, and yet the cursed still receives the love and protection of the Lord.

The fact that there is a sin, that we know slaughtering our neighbour is wrong, is nodded to by the famous story of Adam and Eve. The snake tells Eve that they become like G-d in understanding decency. Man was created with free will, but not with morals. With the original sin, the disobedience, Adam and Eve understood that they were naked. Men have morals and the legend narrates an origin of the natural laws which we seem to understand independently of our cultural background.
The equality of man and G-d as advertised by the snake only relates to having some moral compass and, of course, the snake is deceptive. Men and G-d are not equal in decency. Morals are a price we pay for our free will, our responsibility, our wrong choices, the forbidden fruits.
The brother relationship puts an extra layer on it. We know that we are asked to favour family over others. This is a natural law and also enshrined in the bible. A man who sows conflicts between brothers is a sinner. At the same time, we have created societal morals that condemn nepotism and privilege, seek fairness, and the rule of law.
This rivalry between natural law, curse of the forbidden fruit and source of good, and the learnt morals is reflected in many legends, concepts and our history. Jesus himself struggled with it. He had conflicts with his own family, and surprising for many modern ears he favoured a learnt moral over the natural one. Leaving the family, our innate moral commands to love above everyone else, and choosing one's own brothers for their loyalty became a repeated demand in the bible. Jesus resented his own family (e.g. Mark 3:33) at some point declaring that his brothers in faith are his real brothers.
 
For brothers in the conventional sense, Jesus advises to always keep a door open when you resent them and to forgive everything they have done (e.g. their betrayal) when they repent.
This is not the full story. And many find the following hard to accept.
 
For Jesus overcoming the restraints of our brotherly love was the ultimate proof of faith, a way to test our metal (e.g. Luke 14, Luke 18, Matthew 19). In the final battle, for which Christians should be prepared at all times, family members are even expected to kill one another (Mark 13, Luke 12, Matthew 10) . The not canonised, but very authentic, gospel of Thomas also speaks of Jesus willingness to see family members kill each other: "fire, sword, war" (it's verse 16). In the Luke quote Jesus confesses that he can hardly wait to see it happen. So there is more substance to verify this ambition than many of the more often publicly mentioned quotes that sound nice and sweet.
 
Jesus also asks to 'hate' one's family a couple of times, but this is inconsistent with Jewish tradition and the rest of the text. It is likely to be an error of the scribes. Hate for your brother is worth eternal hell.
 
The gist of his message (take it or refuse it) is:
- love your brother and always support him
- always forgive your brother
- don't follow feelings of hate towards him
- be prepared to fight against him
 
So the masterclass is to not hate, actually to love, your brother in times of peace and maybe to follow Jesus internally in his wish to meet him in battle, as a proof of your metal. Accepting the demise of your brother's soul, in war as in peace, is even more challenging for a man of G-d than to see his physical demise. Nice to see him repent, but ultimately a stray brother is a privilege to test one's metal. Jesus seemed to like the internal struggle hard: fire, sword, war.  "I came to send fire on the earth, and how I wish it were already kindled!" (Jesus, Luke) It should also be noted that 'love your enemy' is expressively put out as a challenge, a test of your faith, and does not mean that your enemy would stop being your enemy.
The ambiguity between family morals and duties to the community and to G-d runs through the entire bible. Didn't Abraham try to sacrifice his son? Didn't G-d himself?
King David fought war both against his father in law Saul and his son Absalom. He acted shamefully when his soldiers succeeded. The soldier who assisted the already successfully injured Saul in his suicide was instantly murdered by David. A similar drama occurred when army chief Joab spiked Absalom to death, as he was helplessly dangling from a branch of a tree. David cried for days until Joab boldly walked up to him and said that he better cries for his own fallen soldiers. David understood and learnt the moral, a societal moral taking precedent over our ingrained moral, passed down to us since the forbidden fruit.
 
The Lord forced the ultimate challenge upon the wise King Salomon. He closed the heart of his elder brother Adonijah, who then staged an unsuccessful coup d'etat. Ultimately Adonijah fled to the tabernacle and started praying. When Salomon's soldiers saw that Adonijah's soul turned to G-d again, they asked Salomon to spare him. And he did. Now, knowing that his beloved brother was a follower of G-d, Salomon was approached a little later by his mother Bathsheba. Adonijah knew how much Salomon loved Bathsheba and asked her to arrange a marriage for him with a very influential woman.  Salomon realized that Adonijah is doing this to consolidate power and influence to challenge his leadership again. So G-d found a way to make Salomon kill his brother, knowing well that Adonijah's soul was with the Lord.
The Jewish law commands that a father with a gluttonous and drunken son, shall bring him to the elders and get him killed. The law does not ask the community to kill a drunken and over-eating son. The father is asked to take action. The Jewish law was assembled during the Babylonian captivity and never executed. The time was about mining the own identity, finding and writing down the Jewish history and the presumed morals of the past. This specific rule asks the community to uphold a moral, even if it affects your own family in a negative way. Thus it established the idea of a rule of law that knows no nepotism.
Non-Judeo-Christian cultures have similar tales and policies to straddle between our innate and learnt morals. The founding myth of Rome is that Romulus slaughtered his brother Remus because he jumped over the city wall, breaking the law. The Roman equality before law moral instituted by the Romulus and Remus founding legend was so strong that Titus Manlius Torquatus ordered the execution of his own son. The son disobeyed the military orders because he was too zealous as a warrior. He was executed on order of his father because he won battles that he was not asked to fight.
The Ottomans had a very rough way to put the moral of the state over the benefit of the family. They sacrificed empathy for the kin completely. Sultan Mehmet the Conqueror ruled that all his successors should be selected as follows: Upon the death of the Sultan his sons are requested to put to death all competing brothers before the survivor may climb the throne. This tradition was practiced for centuries. As the sons are in the bloodline of Prophet Mohammed it was considered their privilege and moral duty to call war on each other. Note that this is no legend, but history!
I think we all agree that this goes too far. But the rivalry between head morals/social morals and heart morals/innate morals remain. Today, the issue is not only what takes precedent over the other in what situation, but also the instability of head morals as they are cultural. Political disputes are fought about incompatible virtue systems. Either the own allies must be protected against 'hate speech' or you support freedom of speech. Two conflicting head morals, social morals. They don't derive from the original sin, but for each side they are indispensable.